John Strauss Associates is a comprehensive design-build firm specializing in landscape architecture and exterior construction for residential, commercial, and institutional properties. The company operates as a design-build contractor or works with other design professionals to implement their plans as well. In either case, our team approaches each project with the foundation of landscape architecture, while attending to construction detailing, circulation patterns, and the integration of "floor, wall, and ceiling" concept for creating outdoor spaces. Finally, we augment and complete each project with appropriate plant materials such as sod, trees, shrubs, groundcovers, or seasonal color.
Our work includes vital elements such as grading, corrective or preventive drainage, water features, pavers, driveways, retaining walls, screening – or any function that is crucial to garden design. Our projects are exceptionally intimate, personal, and detailed. Our experience in the Atlanta market for the past 20+ years enables us to serve the most discerning clientele.
Serving Metro and North Atlanta including, Buckhead, Brookhaven, Sandy Springs, Roswell, Alpharetta, Marietta, Dunwoody, Decatur, and Vinings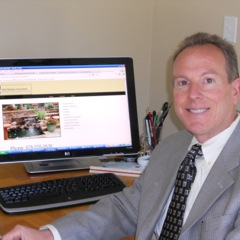 John Strauss has maintained a thriving landscape design and construction company while improving many of metro Atlanta and north Georgia's more exclusive properties. He began his career in the late 1980's after earning a master's degree (MLA) in Landscape Architecture from University of Georgia's School of Environmental Design. As a registered landscape architect, John has merged his love for business and design disciplines to create a company with a strong niche in the Design/Build market. His wealth of 20+ years experience and maturity coupled with his interest in real estate improvement/renovation make him the professional of choice for any size landscape design or construction project.
John places a strong emphasis on three-dimensional designs expressed as outdoor rooms. He offers practical yet artistic solutions to spacial, engineering, circulation, as well as fiscal concerns and constraints. His design philosophy includes a fascination that parallels musical composition. He sees "rests" and "notes" as equally important as in well-written compositions. This would obviously correspond to space being as important as physical elements to design. John never wants to be merely selling "brick and mortar," or plant materials. He would rather serve as a design problem solver that will provide property enhancement ideas while adding textures, outdoor elements, and long-term plant growth that result in highly usable and inspiring SPACE.
John's goal in business is to create lifetime clients and long-term relationships with other professionals whose projects he and his associates implement. His philosophy is expressed by the joy that comes from a happy client coupled with job profitability for long-term business life. John has been able to meet this goal by carefully controlling business growth and being personally available for the customer. As a true entrepreneur, he also finds great satisfaction in providing work opportunities for his many talented associates, each being highly skilled in their trade.
Though John has designed and built both commercial and institutional projects, the refinement of his skill has come from the detail and scrutiny found in the residential sector. He has long been inspired by American Landscape Architect Thomas Church and British Garden designer John Brooks–both working on areas of highly detailed garden design. As a designer, John also strives to be personable and empathetic, connecting with you, the client. However, he works to keep a "big-picture" approach that reconciles balancing design idealism and economic realities. On the job, he balances micro-management with utilizing the natural giftings of his associates. John and crews have implemented hundreds of jobs over the past 20+ years. He sees talent without experience just as superficial as experience without talent–with John you will get both.
Some of John's work has been featured in the Atlanta Journal & Constitution and Southern Home Magazine. John's hope is that his business will outlive him by leaving its "imprint" on many of Atlanta's and North Georgia's finest communities and institutions. John currently holds registration in Georgia and is an active member of the American Society of Landscape Architects. His degrees include an Associate of Science from Young Harris College, Bachelor of Science in Biology from ORU, and Master of Landscape Architecture from University of Georgia.
Michael Lynch - Operations
Maurillo Rivera - Building & Detailing
Tommy Simonton - Carpentry & Lighting